Tumor Board Highlights 8 cases in SKSH-RAK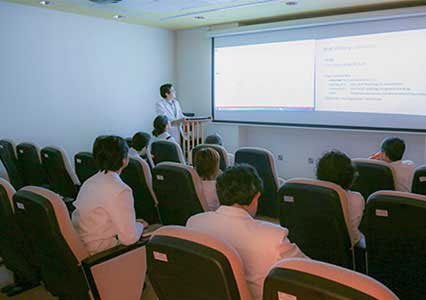 The SKSH tumor board which was held lately discussed the treatment methods and techniques which are used by the medical to the cases that were received by the hospital lately. A total number of 8 cases were suffering from different oncology types were either referred by the UAE hospitals or emergency cases.
Dr. Myung-Whun Sung, CEO of SKSH-RAK who chaired the board expressed his appreciation for organizing such workshops as they increase the awareness of the physicians and the trends to measure the success of these treatments. The workshop discussed the methods of specifying the type of the tumor, effective treatment ways and recommendations to increase the quality of treatment in order to raise the standards of both medical and AHP staff in the oncology center.
Dr. Sung stated that the hospital gives great concern to the organization of conferences, lectures and seminars as they highlight the implementation of continuous medical education for the physicians in all specialities. "our aim is to raise the standards of our doctors and improve the medical sector and benefit from local and international expertise. Such important events enrich the knowledge and experiences of our physicians and review the latest technologies or treatment in the oncology field", he ended.