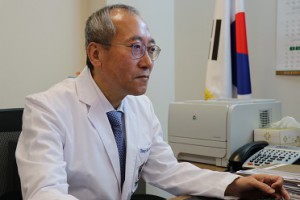 Dr. Chang Suk Suh, MD, PhD
Marhaba, Greetings, 안녕하세요 !
After several months of preparation I am delighted to welcome you to Sheikh Khalifa Specialty Hospital, and to commence provision of comprehensive medical care to the people of the UAE.
Our hospital's journey began when H.H. Sheikh Khalifa bin Zayed Al Nahyan, President of the UAE recognized the need for high-quality healthcare provision in the Northern Emirates. In 2014, Seoul National University Hospital (SNUH), South Korea's most prestigious tertiary and teaching hospital, officially signed an agreement as the operator and manager of SKSH-RAK.
SKSH is a Referral Hospital, overseen by The Medical Office of the Ministry of Presidential Affairs which oversees hospitals under the initiative of HH President of the UAE. We are equipped with state of the art medical equipment and internationally renowned clinical experts to deliver world class healthcare. We have three Centers of excellence: Oncology Center; Cardiovascular Center; Neuroscience Center; and five clinical divisions in medicine, surgery, imaging & laboratory, and emergency medicine.
Our vision is to become the "World-class Leading Medical Hub in the GCC". I can assure you that our staff team will bring our strongest possible commitment to deliver premiere health care services to the communities of Ras Al Khaimah and its neighboring regions of the UAE. The staff, doctors and nurses are committed to delivering professional services and outstanding patient care.
We cannot achieve our vision without the help and support from all our staff, stakeholders and community. At SKSH we encourage all staff to listen to patients' and visitors' questions, as we want to ensure we provide services to meet our customer's needs. We welcome all suggestions and ideas for improving the hospital.
With this, and our commitment to improve healthcare system of the UAE, we will create a high quality medical care legacy for the people of the UAE.
Dr. Chang Suk Suh, MD, PhD
CEO for Sheikh Khalifa Specialty Hospital
Ras Al Khaimah (SKSH-RAK).