SKSH Receives Delegation from Khelifa Fund for Enterprises Development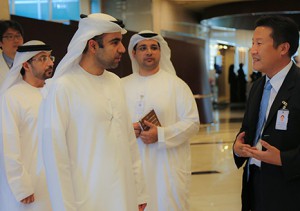 Khalifa Fund for Enterprise Development discussed cooperation with SKSH in various fields. The meeting which was held at the hospital highlighted the different common needs and requirements such as: training and development, rehabilitation and consultation services.
The fund's delegation headed by Marwan Al Qadi, Head of Khalifa Fund's Branch in Ras Al Khaimah and Ahmed Al Hashimi, Head of the fund's branch in Ajman, listened to a detailed explanation about the hospital and its accomplishments.
Furthermore, Dr. Mustafa Al Sayed Al Hashimi, CGIO in SKSH stated that the numbers of the hospital's visitors are increasing since last August and reaching about 1400 patients. He also assured that the hospital seeks for becoming a leading medical hub in the region with international standards and a modern healthcare system that satisfies the future demands. "Our hospital includes three excellence centers: oncology, cardiovascular, and neuroscience to provide treatment for movement disorders, ischemic stroke, epilepsy and cognitive disorder.
The delegation made a tour in the hospital expressing their admiration of its modern equipments and reassuring the interests of Khelifa Fund for Enterprise Development the coordination with SKSH to enhance the health of the society members, develop and enhance the capabilities of national human resources in various fields.
Mr. Al Qadi gave an explanation about the role of the fund in disseminating business development and leadership, the importance of providing comprehensive programs in training, development and rehabilitation in addition to the consultation services in the marketing fields.