SKSH Participates in Emirates Digestive Disease Week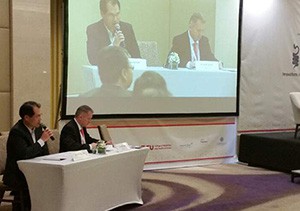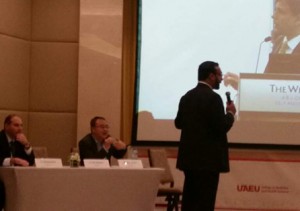 Published by SKSH at Dember 13, 2015
Sheikh Khalifa Specialty Hospital in Ras Al Khaimah (SKSH-RAK) participated in the "Emirates Digestive Disease Week-EDDW 2015" which was organized by the Emirates Digestive Disease Group of the College of Medicine and Health Sciences in the United Arab Emirates University (UAEU). The conference was held lately in Westin Hotel, Abu Dhabi for three days.
Dr. Myung-Whun Sung, CEO of SKSH stated that the participation of the hospital in the conferences is very important as it gives our consultants and specialists to discuss the latest medical developments and find the latest solutions and best services for patients.
He said: "The conference enabled the participants to exchange and interact and at the same time deliver cutting-edge knowledge about research and clinical practice in gastroenterology and hepatology. The conference also encompassed a variety of clinically relevant topics in gastroenterology with state-of-the-art lectures and workshops in Inflammatory Bowel Diseases, Hepato-pancreato-biliary diseases, clinical nutrition, and much more. In addition to regular sessions, the afternoons will feature video endoscopy sessions, as well as smaller group workshops in clinical nutrition, advanced use of biologics in inflammatory bowel diseases, Evidence Based Medicine and workshop on bridging the gap between basic and clinical research in gastroenterology in the UAE and the region.
The conference was attended by 14 international experts in the gastroenterology, hepatology and endoscopy diseases. Dr. Seung Joo Kang, Gastroenterology Consultant and Dr. Byung Hyo Cha, Gastroenterology Consultant, and Ms. Manal Al Atout, Senior Nurse from SKSH participated in the conference. The conference targets Gastroenterologists, Hepatologists, General Surgeons, Internists, Family Physicians and Medical and Surgical Residents, Trainees, GI Endoscopy Nurses, Allied Health Care Workers, Dieticians and Associates.
It also included 8 training workshops about the endoscopy, latest researches in obesity and bariatric, 50 seminars about colorectal, updates in the diagnosis and treatment of gastroenterology, hepatology, pancreas, nutrition for elderly people and ICU patients in addition to other sessions for nursing topics that are related to the gastroenterology diseases and endoscopy in addition to a specialized medical exhibition to discuss the latest endoscopy diseases and technologies.