SKSH Organizes Awareness Campaign about Lung Cancer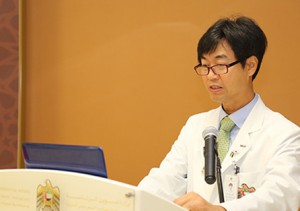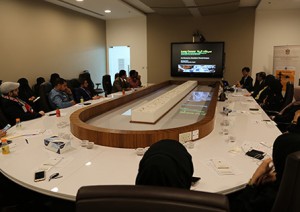 Published by SKSH at Dember 16, 2015
Sheikh Khalifa Specialty Hospital in Ras Al Khaimah ended the awareness campaign about lung cancer which included lots of activities during this month.
Dr. Myung-Whun Sung, CEO of SKSH stated that the campaign aims for disseminating awareness among the community members lung cancer and ways prevention. The campaign included RAK Municipality in addition to an awareness lecture in the hospital which was attended by more than 60 people. The campaign included a detailed explanation to the individuals about lung cancer, importance of early screening, best protection and treatment methods. The campaign witnessed great attendance by the audience.
He said: "Lung Cancer is one of the most common cancers in the world especially in the Middle East and North Africa where 16.000 new cases are diagnosed with the disease annually. SKSH makes great efforts in preventing patients from lung cancer diseases and organizes various awareness campaigns to protect people from the disease and reduce their dangers".
Lung cancer is the first cause of deaths among men and women; the number of deaths due to lung cancer increases every year more than the death rates of colorectal, prostate, lymph or breast cancers. Smoking is responsible for nearly 90% of lung cancer cases and the risk of lung cancer increases steadily depending on the numbers of smoking years or consumption. In most cases, lung cancer symptoms do not appear in their early stages but they show at an advanced stage.