SKSH celebrates Korean Thanksgiving Day, "Chuseok"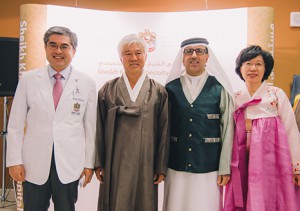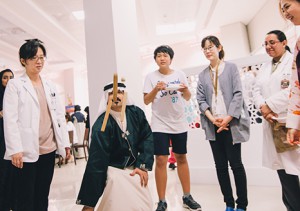 Published by SKSH at Sep 27, 2015
Korean community which manages Sheikh Khalifa Specialty Hospital celebrated the Korean Thanksgiving Day, Chuseok. Chuseok is a major harvest festival on the 15th day of the 8th month of the lunar calendar in Korea.
The ceremony began with a welcoming speech from the CEO, Dr. Myung-Whun, Sung. He explained the meaning of Chuseok which is one of the oldest holidays that modern Korea still celebrates them, as Korean celebrate the Mid-Autumn season harvest fruitful. All Family members from near and far come together to share food and spend quality time together. He added that this event in the hospital would be a good opportunity for Korean traditional cultural experiences to our global SKSH family members.
The ceremony included programs which are Korean traditional food making, traditional game playing, and traditional clothes trying on. All employees of Sheikh Khalifa Specialty Hospital and their families have the experience of Korean clothes "Hanbok" and take a photo and play a game called "Yutnori" which is a traditional board game. Also, they enjoy Korean food and try to learn making a holiday rice cake called "Sonpune" which is made from sesame seeds, beans, chestnuts.
During the holiday, exclusively women and children performed a traditional dance "Ganggangsullae". They go outside in traditional Korean clothing, hold each other's hands, make a circle, and start rotating clockwise under the moonlight.
There are an unusual scene where people carried on planes and trains to visit their family during the Chuseok period and highways are packed with a lot of cars and all shops shut their doors for 3 days.