RAK Delegation visits elderly people in SKSH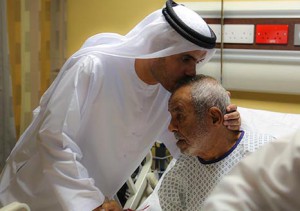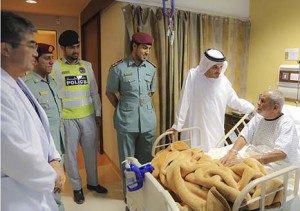 Published by SKSH at Oct 1, 2015
A delegation from Al Jazeera Al Hamra Police Station in Ras Al Khaimah visited a number of elderly patients in SKSH. The delegation took a round in the hospital's department and distributed gifts to the patients.
Dr. Myung-Whun Sung, CEO of SKSH-RAK told the delegation that the hospital gives great priority to elderly patients and provides them with treatment services that comply with international standards. "We took into consideration that all the equipments in the hospital must be equivalent to those approved internationally noting that the hospital's strategy seeks for achieving excellent medical services and installing equipments that are upgraded to international specifications and standards.
Furthermore, Brigadier Faisal Al Mail, Chief of Al Jazeera Police Station emphasized that the general headquarters of Ras Al Khaimah Police is very keen to organize such societal visits and communication with the community members especially the elderly people. Their strategy aims for finding cooperation and solidarity environment among all the members of the society.
He also assured that the visit symbolizes the UAE's concern with the elderly people who represent a remarkable percentage in the society. The visit came on the occasion of the elderly world day.