Ms. Azza Al Zaabi, Patient star employee of the month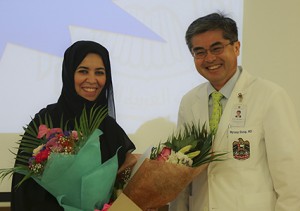 Ms. Azza Al Zaabi is awarded for 'Patient star employee of the month' in the managerial meeting held on July 6th.
This award is held for the first time in the hospital to support the process of development and improvement in patient care, highlight the accomplishments, and motivate outstanding employees. It is enacted by Patient Safety & Customer Experience Management in June.
The award is based on patients, SKSH customers voting, and their experience. The voting/points is collected from patient satisfaction survey & the thank you cards.=apple-converted-space Ms. Azza Al Zaabi, working in Patient Affairs as receptionist, joined the hospital January 2015. She has got the highest score during the last two months.
CEO stressed that it is great opportunity to raise the spirit of fair competition, develop and improve performance between employees, and encourage positive competition to reach the highest levels of service and management.
Ms. Azza Al Zaabi said "This would be a new challenge for me. I will keep continuing to make an effort to contribute to improve the level of services for patients. Also, I am very happy that my service and job alleviate patient's pain and make them happier."
'Patient star employee of the month' award will be held monthly. The hospital will select the highest 3 SKSH employees who have been voted at the end of year.