Lecture Highlights Leadership Skills in SKSH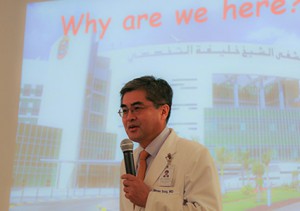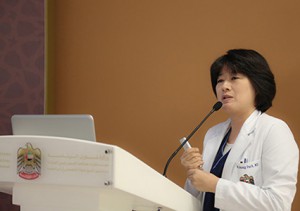 Sheikh Khalifa Specialty Hospital organized a lecture to highlight leadership skills and positive energy as basic components for excellence and success at work. Dr. Myung Whun Sung, CEO of the hospital stated that is very keen to provide the best capabilities that would support excellence and creativity at work among all medical, nursing, technical and admin staff.
Dr. Sung also mentioned that the hospital has accomplished various achievements in a short span of time noting that the numbers of visitors to the hospital are increasing to 1200 during the first six months and reaching 7000 patients so far. About 570 patients were admitted to the internal wards and 136 surgeries were conducted in the oncology, cardiovascular and neurosurgery fields.
"We all feel very proud to have these increasing numbers of visitors and this highlights the valuable reputation of our hospital. All our medical, AHP and admin staff strive to provide the best healthcare services and maintain the reputation of the hospital", he said.
Dr. Sung elaborated that the core values of a good hospital depend on excellence in clinical outcomes, convenience and safe facilities, state-of-the-art medical equipments, amicable customer services, reasonable costs, easy accessibilities and commitments to patients. "SKSH is characterized as a complex organization with diverse functions and is heterogeneous in background, culture and world views", he ended.
Furthermore, Dr. Minjung Park, CHRO said: "The lecture comes as part of the hospital's activities to raise the leadership skills of the employees and improve their performance. A successful leader must be a commander, have self-confidence and commitment. He also must have positive thinking, courageous and open with his employees".
"In order to be a leader, you must realize your sentiment, analyze your emotions, re-set your attitude, start very tiny little steps and never stop training. Non-verbal gesture is as important as verbal assent. Emotions can be understood through behavior and gesture because every leader has his own mask", she ended.