Dr.Bokyong Kim is awarded for 'Patient star employee of October'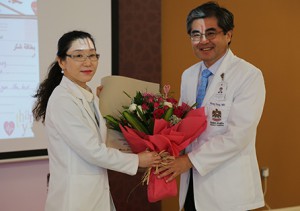 Dr.Bo Kyong Kim wins the Award of 'Patient Star employee of the month,October' in the managerial meeting held on 2nd November.
This award enacted to support the process of development and improvement in patient care, highlight the accomplishments, and motivate outstanding employees by Patient Safety & Customer Experience Management in June.
CEO stressed that it is great opportunity to raise the spirit of fair competition, develop and improve performance between employees, and encourage positive competition to reach the highest levels of service and management.
Dr. Bokong Kim is a Radiation oncologist in Oncology Center. She obtains the best scores in patient care providing not only profesional treatment but also the excellent services to patients. The patients sincerely appreiciate her highest level of service and management.
'Patient star employee of the month' award will be held monthly. The hospital will select the highest 3 SKSH employees who have been voted at the end of year.