 Special lecture on 'Traffic rules and regulation'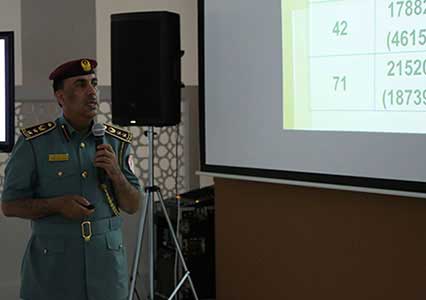 Sheikh Khalifa Specialty Hospital organized a special lecture on 'Traffic rules and regulation' in Conference cafeteria hall on May 4. It is for all staff to raise the awareness of UAE's traffic rules.
Colonel Ahmed Saeed Alnaqbi, Traffic Engineering Manager in Traffic and Patrol Management department in RAK Police was invited and addressed traffic safety. The lecture was attended by Over 60 persons including medical, technical and administrative staff.
The lecture included various topics and phenomena related to driving and traffic offenses committed by drivers' carelessness. Reminding the risk and consequences of traffic accidents, he explained how to avoid accidents and minimize them through the commitment to traffic rules and regulations. Also, He pointed out the seriousness of driving without a license.
He stressed the importance of partnership with various sectors and segments of society in spreading traffic awareness in order to achieve the public interest and the implementation of strategic road policing.
Sangyong Park, Director of Human resources, said, "This lecture is organized to increase the awareness of the U.A.E traffic rules and regulation which might be different for the expatriates. Also we have plan to have another session focusing more on driving rules."