SKSH-RAK Organizes Iftar Gathering for its employees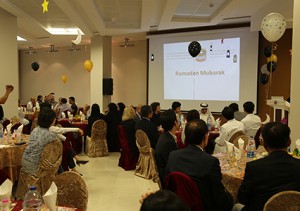 Sheikh Khelifa Specialty Hospital in Ras Al Khaimah (SKSH-RAK) organized an iftar gathering in the hospital's premises in the attendance of Dr. Myung-Whun Sung, CEO of SKSH-RAK, Dr. Resa Van Der Merwe, Interim Chief Executive Officer and a number of physicians, nurses and their families.
Dr. Myung-Whun Sung, CEO stated that the events aim for enhancing communication between the employees of the hospital and the administration and consolidate positive and humanitarian feelings. He renewed his congratulations to the employees of the holy month of Ramadan.
The CEO also lauded the intimacy and cooperation among all the employees of SKSH-RAK which had a direct impact on the accomplishments and results of the hospital in a short span of time.
All the medical, allied health professional and administrative staff are very keen to support the role of this prestigious hospitals and achieve its humanitarian goals and message.