Sheikh Khelifa Specialty Hospital Receives Delegation from Ministry of Cabinet Affairs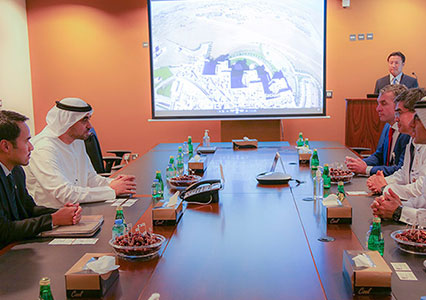 Dr. Myung-Whun Sung, CEO of Sheikh Khelifa Specialty Hospital (SKSH-RAK) received a delegation from the Ministry of Cabinet Affairs headed by Dr. Fuzan Al Khalidi, Director of Healthcare Strategy and Policy Department, and Dr. Andy Poh, Health Policies Advisor on 2nd June 2015.
The delegation listened to a detailed explanation about the hospital's departments and accomplishments. Dr. Sung stated that the number of the visitors in May highly increased to four times compared to December (500 patients).
He also referred that the hospital is very keen to be a medical leading hub and equipped with the latest international standards. It also seeks to achieve a healthcare and medical system adopting the latest demands of the future.
He explained that the hospital includes three excellence centers: oncology, cardiovascular and neuroscience centers to provide treatment for movement disorders, brain tumors and heart diseases.
Meanwhile, Dr. Al Khalidi stated that the hospital is a diverse addition to the medical sector in the UAE being of the vital projects in the initiatives of His Highness the President. He also expressed his admiration with the equipments of the hospital noting that the health policies and strategies
department in the Ministry of Presidential Affairs is keen to activate cooperation with SKSH-RAK to enhance and protect the health of the society.