DEPARTMENT OF NUCLEAR MEDICINE
The Department of Nuclear Medicine is equipped with state-of-the-art imaging equipment, including a dual-head gamma camera and a PET/CT scanner. In northern Emirates (Sharjah, Ajman, Umm al-Quwain, and Fujairah), the SKSH is the only facility which can provide the full nuclear medicine examinations and therapies, including PET study. The PET/CT scanner has been used for a full range of oncologic, cardiac, and neurologic studies. Using the picture archiving and communication system, we provide highly accurate and sensitive interpretation on our nuclear medicine examinations, and physiologic, quantitative analysis. Wide-range of examinations are available for the patients with heart diseases, cancer, thyroid problems, renal, neurologic, and gastrointestinal disorders.
Nuclear Medicine Clinic offers diagnosis and treatment for the patient with thyroid disease, including radioactive iodine scan and ablation therapy. We provide a full range of procedures both diagnostic and therapeutic as well as PET studies. To provide the highest diagnostic service and therapeutic treatments to our patients is our important duty.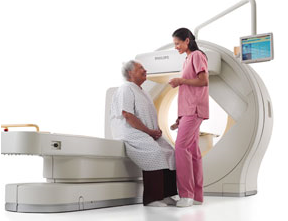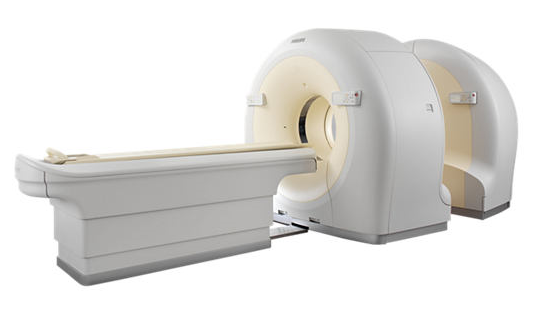 What is Nuclear Medicine?
Nuclear medicine provides unique information about both structure and function of nearly every human organ. It is the ability to characterize and quantify physiologic function that makes nuclear medicine different from radiology using X-ray. As the radiopharmaceuticals become more sophisticated, it is becoming possible to see inside of human beings at the cellular and even at the molecular level.
Nuclear medicine is a medical specialty that is used to diagnose and treat diseases in a safe and painless way using medicine that is attached to a small quantity of radioactive material. This combination is called a radiopharmaceutical. There are many different radiopharmaceuticals available to study different parts of the body. Nuclear medicine study is an effective diagnostic tool because it shows not only the anatomy of an organ or body part, but also the function of the organ as well. Nuclear medicine procedures are very safe, both for the patients and the technologists. Patients usually experience little or no discomfort during the examinations. Therefore anaesthesia before the examination is not necessary.
Introduction of PET/CT
PET/CT is a combination of two non-invasive imaging modalities: Positron Emission Tomography (PET) and Computed Tomography (CT). This scanner helps to diagnose, evaluate treatment response and assess for recurrence of many medical conditions, including cancer.
A small amount of radioactivity (Fluorine-18; F-18) is attached to sugar (glucose) molecules and given to the patient through an injection (Fluorine-18 Fluorodeoxyglucose; FDG). Upon entering the body, the FDG is processed by organs and tissues as part of their normal function and is detected by the PET scanner. A computer then creates a picture of where the FDG is taken up (called "activity") using colors to highlight the different levels of activity.
The cancer cells have a high rate of metabolism, and because of this, they take up more of the radioactive glucose (FDG). This makes the cancer cells appear more "active" than other areas on the PET images. The rate of uptake of FDG by the tumor cells is proportional to their metabolic activity. In addition to the color picture, the amount of uptake on PET can be analyzed quantitatively. PET can also be used to map brain function and the diagnosis of conditions such as Alzheimer's disease.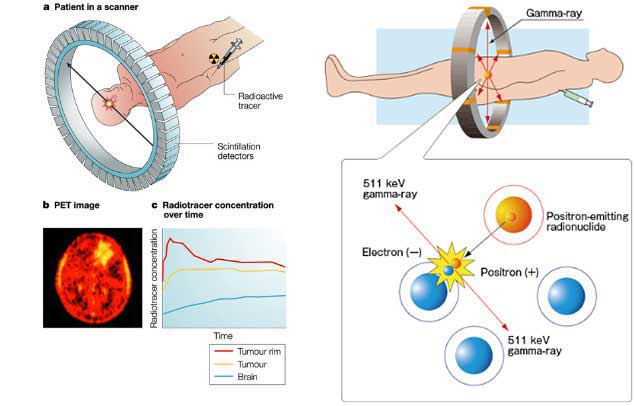 Radiation Safety
Every year, each person is exposed to natural radiation and a variety of other sources, including household smoke detectors and color television sets. In a nuclear medicine diagnostic procedure, small amounts of radiopharmaceuticals are introduced into the body by injection, swallowing or inhalation. The amount of the radiopharmaceutical that is used is chosen to provide the lowest radiation exposure to a patient while ensuring an accurate medical evaluation. A typical nuclear medicine procedure may impart a radiation dose to the patient comparable to about one to four years of natural background radiation depending on the type of study.  Exposure to ionizing radiation is monitored closely, and kept well below safety limits.  The value of diagnostic imaging is great and the risks are negligible compared to the health benefits of having the procedure.
BRIGHT VIEW Gamma Camera System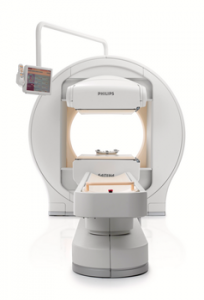 Maximized image quality with Close Up technologies
Improved workflow efficiency, BodyGuard automatic contouring
Rich in capability yet compact in design
Automatic set-up: Select a patient and SmartStep automatically reads the protocol parameters and configures BrightView for the procedure
Automatic contouring: BodyGuard senses the contours of the patient during setup and live acquisition, with a customizable scan distance
Faster acquisition: Astonish reconstruction uses a patented dual-filtering technique to reduce acquisition times – up to 50% in cardiac studies
GEMINI TF 64 PET/CT System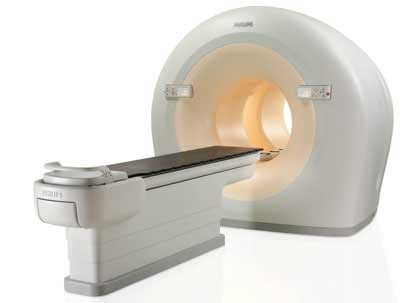 Basic system specifications
Maximum patient weight: 195kg
Patient port: 70 cm for PET & CT
PET/CT scan range: 190 cm
Open View gantry design: Yes
PET crystal material: LYSO
PET crystal dimensions: 4 x 4 x 22mm
PET Time-of-Flight imaging: Yes
PET sensitivity (center): 7000 cps/MBq (NEMA), >14,000 with TOF
PET peak NECR: 110 kcps (NEMA), >220 with TOF
PET transverse spatial resolution (1 cm): 4.7 mm (NEMA)
CT configurations: Brilliance 64-channel or 16-slice
CT tube: MRC with 8.0 MHU anode storage capacity
Exclusive Open View gantry
Designed to reduce claustrophobia for a better patient experience and fewer issues with patient movement
Gantries further separate for expanded access and other clinical applications
PET acquisition and reconstruction
Static, dynamic, and gated acquisition
List mode acquisition for all protocols
List mode Time-of-Flight reconstruction
Fully 3D Line of Response (LOR) processing
Distributed reconstruction architecture
Concurrent acquisition and reconstruction
PET/CT Scan Procedure
The patient should be fasting over 6 hours (we recommend 8 hours) before the PET study. But during the fasting time, the patient can drink water (no other beverages, only water).
At the beginning of the PET scan procedure, the patient will receive an injection of a small amount of radioactive material called Fluorodeoxyglucose (FDG).
The patient will be asked to sit quietly for about one hour. During this time the patient must sit and relax and must not get up and walk around, talk to friends, or read. This allows the tracer to travel throughout a body while it is in a relaxed state.
The patient will then be asked to lie down on a table, which will move through the PET/CT scanner. A PET scan procedure takes about 80-100 minutes to complete (from the injection).
BONE Scan Procedure
The test requires an injection of a small amount of radioactive material into a vein. This solution is delivered to the bones via the bloodstream. After the injection, there is a delay of 2 to 4 hours before the bone images are taken. This delay is necessary to allow the injected radiopharmaceutical to be absorbed into the bones. During this time patients are free to leave the department and can eat and drink as normal.
After the injection, patients are recommended to drink more water or beverages, and empty a bladder more often, to ensure the clearance of radioactivity by urine.
On return to the department, patients will be positioned lying down on a scanning table. The table will move slowly along the entire length of the body, taking a continuous image of all the bones in the body. The entire scan takes about 30 minutes to complete.
Myocardial perfusion Study Procedures
The patient should be fasting over 6 hours before the examination. And during the 24 hours before the examination, caffeine-containing drink or food should be avoided.
The nuclear medicine cardiac perfusion study can be done in the resting condition, or the stress condition. Thallium-201 (Tl-201), or Technetium-99m sestamibi (Tc-99m MIBI) can be used as a radiopharmaceutical.
For cardiac stress, the pharmacologic procedures are preferred for the patients with a heart problem (ischemic heart disease). In SKSH, we use the latest coronary vasodilator – regadenoson – injection for the cardiac stress.
Actual scanning time for each heart scan varies from 15 to 30 minutes, depending on the type of scanner used. Total time in the nuclear medicine department will be approximately two to four hours. But in some cases, the rest study, and the stress study can be performed on two days.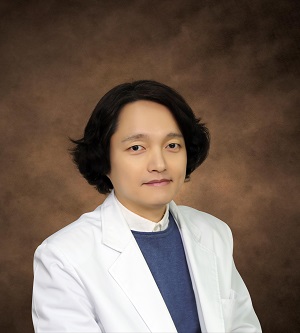 Dr. Sung-June Jang
---
Consultant, MD, MSc.
Nuclear Medicine
Representative of Nuclear Medicine
Chief of Radiation Protection Team