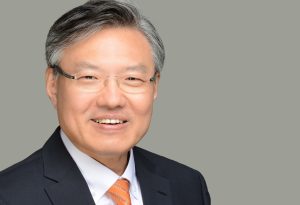 Dr. Jeong Ryul Lee, MD, PhD
As the new CEO of Sheikh Khalifa Specialty Hospital, I would like to begin by expressing my sincere gratitude for the opportunity to lead this great institute and I deeply appreciate all of the employees' contribution and dedication to sustaining the excellence of the hospital.
Recent changes in the UAE healthcare landscape have presented significant changes for Sheikh Khalifa Specialty Hospital(SKSH).
To fulfill our vision of becoming a world-leading medical hub, it is essential to improve the quality of care and secure advanced treatment technology, whether it is specialized or intensive care.
To reach our vision of the goal, we must prioritize enhancing further the quality of care and secure superiority, particularly in Cardiovascular, Neuroscience, and Oncology specialties. It is imperative to devise a comprehensive strategy and exert concerted efforts to attain clinical excellence in these fields.
Our Primary focus should be on addressing quality issues promptly and efficiently.
We must prioritize and implement urgent tasks to strengthen our emergency medical service system and service delivery processes.
Simultaneously streamlining the operation of the surgical centers will be crucial to enhancing overall efficiency.
To prevent complaints and ensure patient happiness, we need to reevaluate our approach to customer service. Establishing and achieving specific targets for key performance indicators(KPIs) and variables will help us to measure our process efficiency.
As part of our drive towards excellence, we must set specific strategies and goals to be recognized as a center for clinical excellence.
Listening to the voices of all employees and fostering open discussion will be pivotal in building consensus and ensuring a brighter present and future for SKSH.
Together with the dedication of our exceptional team, I am confident that we can achieve our shared vision to make SKSH leap again to be the leading medical hub, not just in the region but beyond.
Thank you all for your support and I look forward to working closely with each one of you to make a positive impact on the lives of our patients and the community.
Dr. Jeong Ryul Lee, MD, PhD
CEO for Sheikh Khalifa Specialty Hospital
Ras Al Khaimah (SKSH-RAK).